HETTS DXB
Regular price
Dhs. 270.00 AED
Regular price
Sale price
Dhs. 270.00 AED
Unit price
per
Sale
Sold out
IQOS 3 DUO Passion Red Limited Edition is the most powerful IQOS with which you can enjoy two HEETS without waiting. cash on delivery, fast delivery, and same-day delivery all over UAE.
Specification:
Includes- Complete Kit
Operating temperatures- 0 - 50 °C (32-122 °F) approx.
Device type- Two-piece device: Holder inside Pocket Charger
Battery capacity- 2900 mAh
Number of consecutive sessions without recharging - 1
Number of sessions with one full charge - 20
Pocket Charger charging time - 120 min for 20 holder charges
Holder charging time - 3 min 30 sec
Pocket Charger lock - Magnetic
Automatic cleaning - Yes
Bluetooth - Yes
Charging port type - USB-C
Heatstick warm-up temperature - 300 - 350 °C (570 - 660 °F)
Heatstick warm-up method - From Within
Heatstick warm-up time - 10 sec
Holder dimensions - Length: 92.3 mm (3.63 in), Diameter: 14.4 mm (0.57 in)
Pocket Charger dimensions - 114.7 х 46.3 х 22.9 mm (4.52 x 1.82 x 0.90 in)
Holder weight - 22 g (0.78 oz)
Pocket Charger weight - 103 g (3.63 oz)
In the world of vaping, innovation, and style often go hand in hand. The IQOS 3 DUO Passion Red Limited Edition is a testament to this synergy, offering vaping enthusiasts a unique and luxurious experience like never before. In this article, we'll delve into the exquisite details of this limited edition device, exploring its features, design, and why it's a must-have for both newcomers and seasoned vapers.
Unveiling the Passion Red Elegance
A Visual Masterpiece
At first glance, the IQOS 3 DUO Passion Red Limited Edition captivates with its striking red hue. Bold, passionate, and elegant, it's a device that not only enhances your vaping experience but also makes a style statement. The sleek design is perfectly complemented by a matte finish, giving it a premium and tactile feel.
Dual Purpose, Double Enjoyment
IQOS 3 DUO - The Basics
The IQOS 3 DUO, in general, is known for its dual-use functionality. It allows users to enjoy both heated tobacco and vape sticks, offering a versatile vaping experience. With the limited edition Passion Red, this functionality is elevated to a whole new level.
Key Features
What Sets It Apart
1. Faster Charging
Power When You Need It
The IQOS 3 DUO Passion Red comes with an upgraded charging time, ensuring that you spend less time waiting and more time enjoying your vape. The device charges 20% faster than previous models, guaranteeing that you are always ready for your next session.
2. Dual Holder
Convenience at Its Best
The inclusion of a dual holder in this limited edition device allows you to have two vape sticks ready for use. Switching between flavors or sharing with a friend has never been easier. It's the epitome of convenience for those on the go.
3. Luxurious Packaging
Unboxing Experience
From the moment you receive your IQOS 3 DUO Passion Red, you'll notice the attention to detail in its packaging. Designed to enhance the unboxing experience, it's a treat for the senses, making it an ideal gift for a loved one or yourself.
Elevate Your Vaping Journey
The Ultimate Experience
The IQOS 3 DUO Passion Red Limited Edition is more than just a vaping device; it's a lifestyle choice. With its impressive features, elegant design, and faster charging capabilities, it ensures that your vaping journey is elevated to new heights.
Conclusion: A Statement of Luxury
Make It Yours
In conclusion, the IQOS 3 DUO Passion Red Limited Edition is not just a vaping device; it's a statement of luxury and style. Whether you're a vaping enthusiast or looking to embark on this journey, this limited-edition device offers the perfect blend of innovation and elegance.
Get Access Now: Experience Passion Red
FAQs (Frequently Asked Questions)
1. What's included in the IQOS 3 DUO Passion Red Limited Edition package?
The package includes the IQOS 3 DUO device in Passion Red, a charging cable, cleaning accessories, and a user manual.
2. Can I use regular vape liquids with this device?
No, the IQOS 3 DUO is designed for use with specially designed vape sticks for a safer and more controlled vaping experience.
3. Is the Passion Red Limited Edition available worldwide?
Availability may vary by region. Please check with your local authorized retailer for more information.
4. How long does it take to fully charge the IQOS 3 DUO Passion Red?
The device charges 20% faster than previous models and typically takes less than an hour to reach a full charge.
5. Can I customize the LED lights on the device?
Yes, the IQOS 3 DUO Passion Red Limited Edition allows you to customize the LED lights to match your style and preferences.
Incorporate luxury and innovation into your vaping experience with the IQOS 3 DUO Passion Red Limited Edition. Elevate your style, elevate your journey.
---
Disclaimer: The IQOS 3 DUO is intended for adult smokers or vapers only. It is not suitable for individuals who have never smoked or vaped, underage users, or pregnant or breastfeeding women. All information provided is for informational purposes only and should not be considered medical advice.
Share
View full details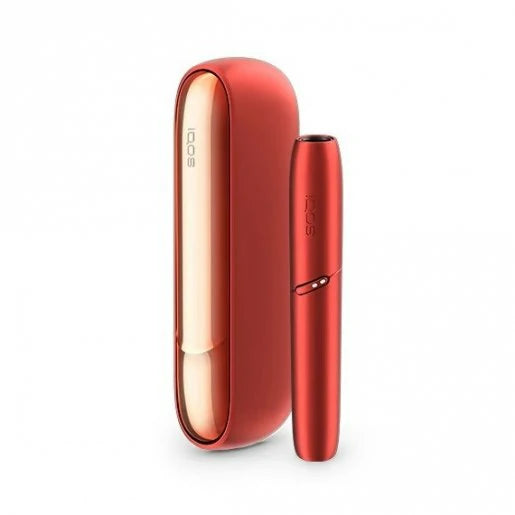 Add a title to introduce your product's features
Highlights

Provide details in each of the collapsible rows to give your customers the information they need to pick the best product.

Change the title and icon of each row to suit your brand.