HETTS DXB
Regular price
Dhs. 140.00 AED
Regular price
Sale price
Dhs. 140.00 AED
Unit price
per
Sale
Sold out
HEETS tobacco sticks for IQOS from Philip Morris International. Filled with natural tobacco. Designed exclusively for electronic heating.
Origin: Russia, Leningrad region, Philip Morris International
Dimensions: 76 * 163 * 49 mm
Weight: 240 g
1 Carton / 10 small packers / 200 Sticks
Heets Amber Selection (Stick IQOS Heats Amber orange) from Parliament for the heating system of tobacco IQOS 3, IQOS 3 DUO, IQOS 3 Multi, Lil Solid, and IQOS 2.4. HEETS Amber has a rich and spicy taste with light woody and nutty notes.
When it comes to experiencing the essence of Russia's tobacco heritage, IQOS Heets Amber from Parliament is your gateway. The rich and aromatic flavors of these specially crafted tobacco sticks provide a truly immersive and satisfying smoking experience.
Discover the Allure of Russian Tobacco
Originating from the heart of Russia, IQOS Heets Amber offers a taste that is deeply rooted in the country's tobacco tradition. These tobacco sticks are expertly made to capture the essence of Russia's tobacco culture, making each puff a journey through time.
A Fusion of Flavors
What sets IQOS Heets Amber apart is the carefully selected blend of tobacco. The amber label denotes a medium and well-balanced flavor profile that offers a delightful fusion of rich tobacco notes with a subtle touch of woody and nutty undertones. This combination creates a smoking experience that's hard to match.
A Smoke-Free Alternative
One of the standout features of IQOS Heets is that they are designed to work with IQOS heated tobacco systems, offering a smoke-free and ash-free alternative to traditional cigarettes. The cutting-edge IQOS technology heats the tobacco rather than burning it, which significantly reduces the harmful chemicals produced during combustion.
Elevate Your IQOS Experience
For those who already own an IQOS device, adding IQOS Heets Amber to your collection is a must-try. It's an invitation to explore the world of tobacco in a whole new way. The unique taste of amber-label Heets complements the innovative IQOS technology beautifully, providing a smoking experience that's both satisfying and sophisticated.
Conclusion
IQOS Heets Amber from Parliament offers more than just a smoking alternative. It's an opportunity to immerse yourself in the rich tobacco heritage of Russia. With its fusion of flavors, medium intensity, and IQOS technology, these tobacco sticks allow you to experience tobacco like never before.
So, if you're looking to elevate your smoking experience, IQOS Heets Amber from Parliament is your ticket to the heart of Russian tobacco tradition. It's time to unlock the richness of Russia, one puff at a time.
Share
View full details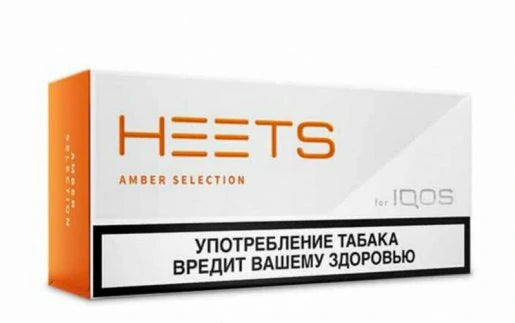 Add a title to introduce your product's features
Highlights

Provide details in each of the collapsible rows to give your customers the information they need to pick the best product.

Change the title and icon of each row to suit your brand.