HETTS DXB
Regular price
Dhs. 140.00 AED
Regular price
Sale price
Dhs. 140.00 AED
Unit price
per
Sale
Sold out
Terea Purple Menthol from Kazakhstan tastes different from other Terea products. It will give you a unique and refreshing menthol experience by combining the burst of ice with the extract of ripe purple fruit. The taste of Terea purple menthol Kazakhstan is described as a symphony of flavors that will awaken your senses and make you want to take another puff.
Why Terea Purple Menthol Kazakhstan everyone's favorite?
Terea purple menthol Kazakhstan is becoming popular because of its special combination of flavored menthol and premium tobacco. Terea Purple Menthol Kazakhstan is made of high-quality ingredients. It will give you a constant feeling of coolness and softness. Terea Purple Menthol Kazakhstan can be your top choice for an amazing vaping experience. Terea Purple Menthol promises health-conscious vaping with a combination of style and innovation that produces fewer harmful chemicals than traditional smoking. If you're looking for a modern, sophisticated way to smoke tobacco, Terea Purple Menthol could be a great example for you. For those who value style and utility, the device makes an elegant accessory with a rich purple color and a refreshing taste.
How to use Terea Purple Menthol Kazakhstan  
1. Terea Purple Menthol Kazakhstan is designed for use with IQOS ILUMA SERIES. The device heats tobacco instead of burning it and produces less harmful chemicals.
2. Insert the terea stick into the IQOS holder and wait for it to heat up. The device takes about 20 seconds to heat up the stick.
3. When the device vibrates it is ready to take a puff. Take a puff from the mouthpiece.
4. Puff slowly to savor one moment at a time.
5. Keep yourself hydrated. Menthol can cause dryness in the mouth so it is advised to drink water while using it.
6. When finished, remove the terea stick from the holder and dispose of the stick properly.
Share
View full details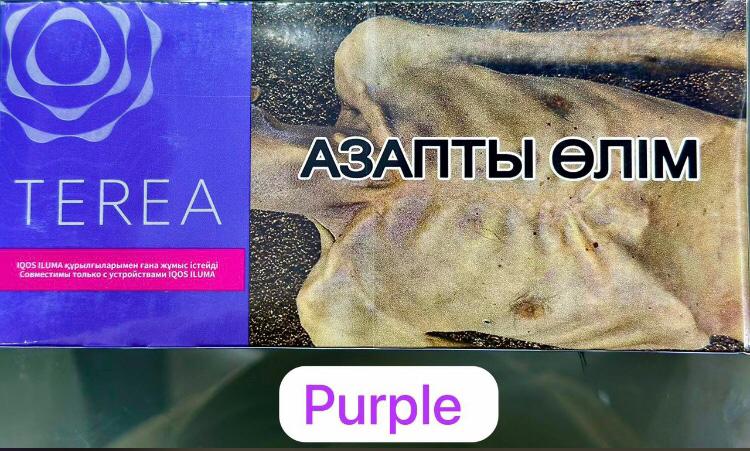 Add a title to introduce your product's features
Highlights

Provide details in each of the collapsible rows to give your customers the information they need to pick the best product.

Change the title and icon of each row to suit your brand.