HETTS DXB
Regular price
Dhs. 90.00 AED
Regular price
Sale price
Dhs. 90.00 AED
Unit price
per
Sale
Sold out
 IQOS Heets Amber Selection Label sticks have an unusual, rich, tart tobacco taste with light woody and nutty notes. The taste is strong and tart but leaves behind a pleasant aftertaste. The taste of tobacco is pronounced and has a characteristic odor.
Together with the taste and strength level, it is recommended for people who switch to IQOS immediately after cigarettes, since other, light stick tastes are initially felt as chemical.

1 Carton (10 packs) 

Aroma: ⭐⭐⭐⭐☆

Strength: ⭐⭐⭐☆☆

Saturation: ⭐⭐⭐☆☆

Suitable for: IQOS 3 DUO, IQOS 3, IQOS 3 MULTI, IQOS 2.4 Plus, IQOS Lil Solid
As the world moves towards alternative, less harmful ways of enjoying tobacco, IQOS provides an enticing option. The IQOS Heets Amber Selection is a fine example of how technology and tradition can meet to create a product that caters to the discerning taste of modern consumers.
The Art of Crafting Tobacco
Before we dive into what makes the IQOS Heets Amber Selection unique, it's essential to understand the craftsmanship behind it. The finest tobacco leaves are carefully selected, processed, and blended to create a product that balances the rich, earthy flavors of tobacco with a sophisticated twist.
Understanding IQOS Heets
IQOS, which stands for 'I Quit Ordinary Smoking,' is a groundbreaking innovation in the tobacco industry. This heated tobacco system provides a smoke-free and ash-free experience, offering a better alternative to traditional smoking. The core of the IQOS experience lies in the specially designed tobacco sticks known as "Heets."
Exploring the Amber Selection
The IQOS Heets Amber Selection is a part of a range of delightful options. Each variant is crafted with a specific flavor profile in mind. Amber Selection is known for its well-balanced taste, offering a medium-intensity tobacco experience.
A Symphony of Flavors
The IQOS Heets Amber Selection entices with a flavor that captures the essence of tobacco. It's perfect for those who appreciate the genuine taste of tobacco with a refined touch. This variety strikes a harmonious balance between the distinct notes of tobacco and subtle woody undertones.
Quality and Safety Assurance
IQOS places a strong emphasis on quality and safety. The Heets are manufactured with meticulous attention to detail. They undergo rigorous quality control processes to ensure that every stick meets the highest standards.
How to Enjoy IQOS Heets Amber Selection
The IQOS system is designed for convenience. Simply insert the Amber Selection stick into the IQOS holder and press the button to start the heating process. In just a few moments, you'll be able to savor the rich and aromatic flavor without the drawbacks of traditional smoking.
Amber Selection is the choice of those who seek a tobacco experience that mirrors the classic smoking sensation. It's an excellent option for those transitioning from traditional cigarettes and looking for a satisfying alternative.
A Step Towards a Smoke-Free Future
IQOS, with its Heets range, is contributing to a smoke-free world. By providing a less harmful way of consuming tobacco, IQOS aims to reduce the impact of smoking on both individuals and the environment.
Customer Reviews
Here's what some IQOS Heets Amber Selection users have to say:
"I was a heavy smoker, but IQOS Heets Amber Selection changed my perspective. It's the closest thing to a real cigarette without the smoke."
"The flavor is outstanding. I enjoy every puff without the usual cigarette aftertaste."
Conclusion
In the world of heated tobacco products, the IQOS Heets Amber Selection stands as a testament to quality and innovation. It offers a unique flavor experience that brings together the classic taste of tobacco with a touch of elegance. As we look towards a smoke-free future, products like the IQOS Heets Amber Selection are leading the way, providing a satisfying alternative to traditional smoking.
Get started on your journey towards a smoke-free life with IQOS Heets Amber Selection. Experience the rich and genuine taste of tobacco, reimagined for the modern world.
Share
View full details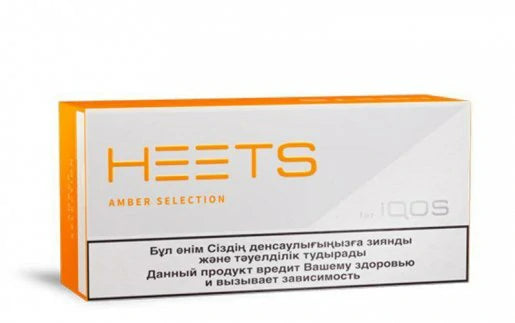 Add a title to introduce your product's features
Highlights

Provide details in each of the collapsible rows to give your customers the information they need to pick the best product.

Change the title and icon of each row to suit your brand.