TEREA Indonesian
Regular price
Dhs. 140.00 AED
Regular price
Sale price
Dhs. 140.00 AED
Unit price
per
Sale
Sold out
Experience New IQOS Terea Green Indonesian Delight!
Condition: New
Unit Weight: 25 – 200 g
100% authentic by IQOS Indonesia
IQOS Terea Indonesian is only used with IQOS ILuma Devices!
1 Carton / 10 small packers / 200 Sticks
Are you ready to embark on a unique and satisfying tobacco journey? The New IQOS Terea Green Indonesian is here to elevate your experience. This comprehensive product description will cover its features, advantages, pros, cons, user experiences, 18+ nicotine restrictions, and a helpful FAQ to ensure you're well-informed.
Features & Advantages:
Advanced Heat-Not-Burn Technology:

IQOS Terea Green Indonesian employs cutting-edge heat-not-burn technology, eliminating combustion and reducing harmful byproducts associated with traditional smoking.
This technology offers a controlled and potentially less harmful way to enjoy tobacco.

Distinct Green Indonesian Flavor:

Experience the authentic taste of Green Indonesian tobacco, which provides a unique and exotic flavor profile.
Perfect for those seeking a change from traditional tobacco blends.

Reduced Harm:

In comparison to traditional smoking, IQOS Terea Green Indonesian significantly reduces exposure to harmful chemicals and tar.
Enjoy your tobacco with potentially fewer health risks.

Sleek and Portable Design:

The sleek and portable design of IQOS Terea Green Indonesian ensures comfort and convenience during use.
Take your tobacco enjoyment with you wherever you go.
Pros:
Reduced health risks compared to traditional smoking.
Unique Green Indonesian flavor.
No secondhand smoke.
Eliminates ash and lingering smoke odor.
Convenient and easy to use for a hassle-free experience.
Cons:
Regular cleaning and maintenance are required for optimal performance.
The initial cost for the device.
Availability may vary by location.
User Experience:
Users of IQOS Terea Green Indonesian have reported a satisfying and enjoyable tobacco experience. The device's heat-not-burn technology heats tobacco sticks to release a flavorful vapor without the harshness of traditional smoking. Users appreciate the convenience, reduced harm, and freedom from smoke and ash. It's a modern way to enjoy tobacco with fewer drawbacks.
18+ Nicotine Restrictions:
IQOS Terea Green Indonesian is intended for use by adults aged 18 and over. It contains nicotine, an addictive substance. Please adhere to local regulations and restrictions on the sale and use of tobacco and nicotine-containing products. Keep IQOS Terea Green Indonesian out of reach of children and pets.
FAQ:
Q: How does IQOS Terea Green Indonesian work?
A: IQOS Terea Green Indonesian uses heat-not-burn technology to heat tobacco sticks, releasing a flavorful vapor without combustion.
Q: Is IQOS Terea Green Indonesian safer than traditional smoking?
A: IQOS Terea Green Indonesian significantly reduces exposure to harmful chemicals found in cigarette smoke, making it a potentially less harmful alternative.
Q: Where can I purchase IQOS Terea Green Indonesian in Dubai, UAE?
A: You can find IQOS Terea Green Indonesian at authorized retailers and online stores in Dubai, UAE.
Q: Can I use IQOS Terea Green Indonesian in public places?
A: IQOS Terea Green Indonesian produces no smoke and limited odor, but it's essential to follow local regulations regarding tobacco product usage in public areas.
Experience the allure of Green Indonesian tobacco with IQOS Terea Green Indonesian, available at the best price in Dubai, UAE. Enhance your tobacco journey with reduced harm and distinctive flavor. Use it responsibly and in compliance with local regulations.
Share
View full details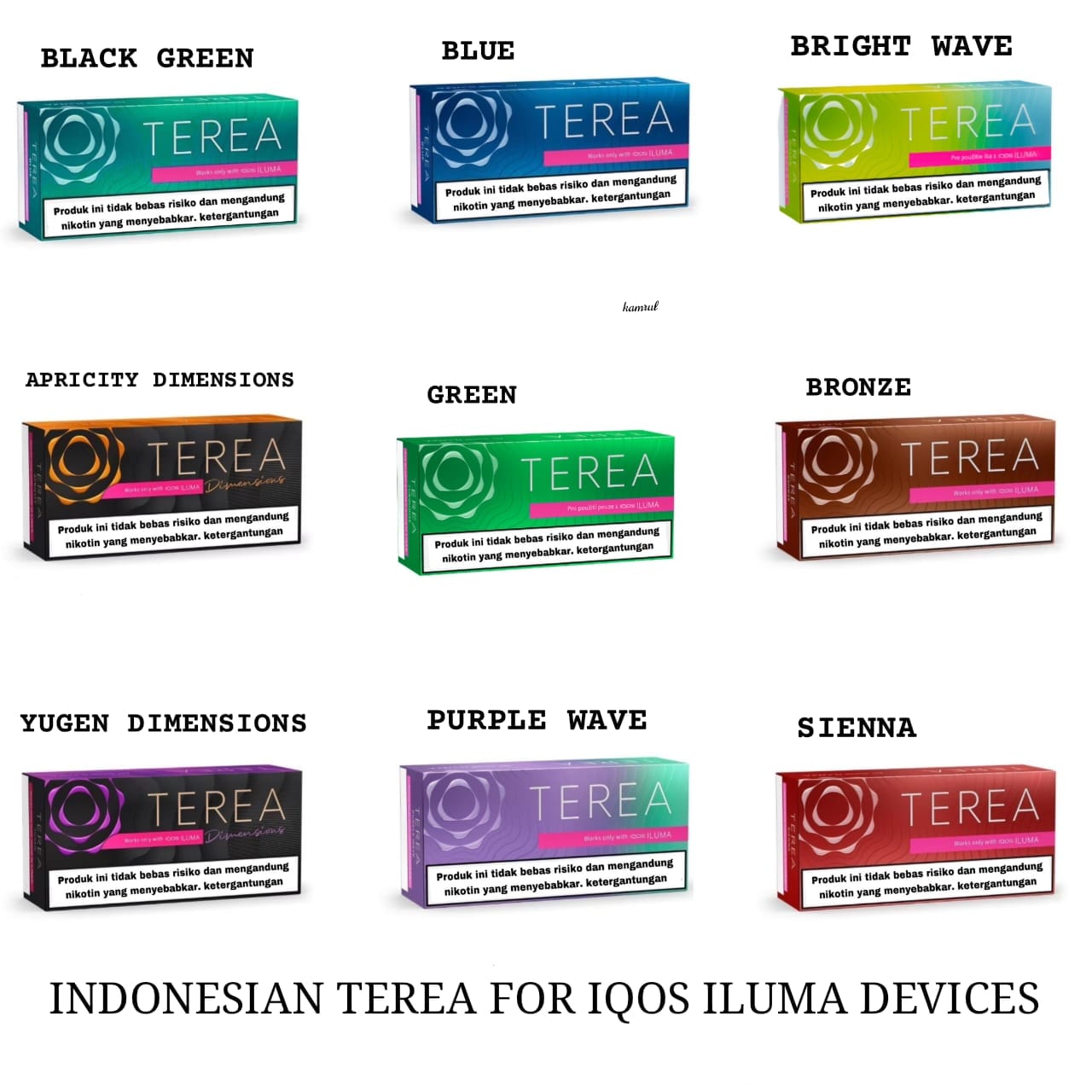 Add a title to introduce your product's features
Highlights

Provide details in each of the collapsible rows to give your customers the information they need to pick the best product.

Change the title and icon of each row to suit your brand.